Latest Product News
August 2017
Restocking on all brake blocks products is occurring and other etchings with low stock levels ready for the autumn.
July 2017
Restocked or replaced AJ Aid products, AJ4 replaces AJ3, AJB is now revised and AJM is now available, AJG the setting jig is back in stock
Sash window etches have now been restocked - BW4, BW5, BW6, BW7, BW8
New items now available (in limited quantities) Whitacker tablet exchanger for some M&GN and S&DJR engines - 4 per etching, and for the Ratio Midland coaching stock kits in brass - door handles and door knobs, three etchings.
All chains stocks were running low and have also been restocked.
Later in May
Listing errors in the price list have been removed and the price list is now version 7.0 . There is no change to the product range except BB2, BB3 and BB5 were all sold at EXPO-EM and will be restocked over the summer period.
May 2017
Supplies of AX1 and BX1 have arrived and we have now introduced all the brake block etchings proposed BB1 to BB5 - all in phosphor-bronze. The original BB1 etching has been enlarged as version2 and will replace the first BB1 etching when that stock is exhausted.
Restocked have restocked WV13 and WV14 and CH3 and further copies of BSE1 - Coalville Engine shed windows and doors. The single unit CH1 etching is now scarce and will eventually be restocked, the double size etching remains available.
It has come to our notice that any phosphor-bronze etchings do not repeatedly bend at any half etched point, after all this is a hardened metal useful as a spring. This and stainless steel etching (the crossing jigs) should be able to be bent once without fracturing, but it has been reported that a complete fold (of 180 degrees) does not happen, undermining the concept of a one piece fold up component. We have found that a 180 degree fold AWAY from the half etched side will work ONCE and a 90 degree fold on the half etched side will also work - see the crossing jig image.
There is no intention of changing the phosphor-bronze material used to a softer metal e.g. brass.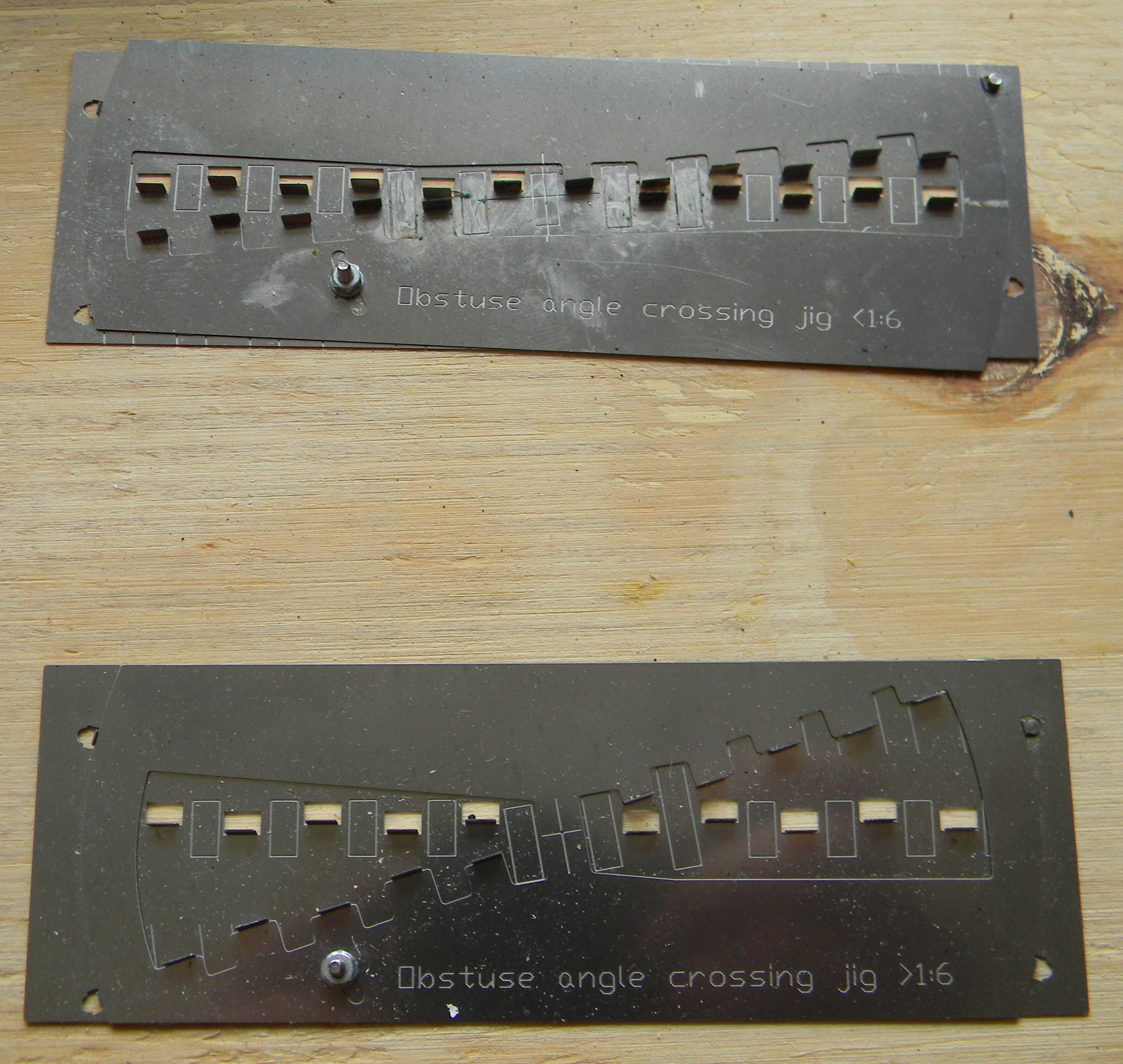 Note nickel-silver exhibits the same characteristics as phosphor-bronze - you cannot bend this several times without it fracturing at the half etched point.
March 2017
Helping in fitting out Teapot Cottage, near Fakenham has been delaying progress with product development but this is now "finished" and is available as a holiday home.
We have the following items on order for Scaleforum North - a revised PR9 etching, new uneven push rods and central push rods - from L&YR wagons in thin phosphor-bronze.
Back in stock will be AX2 and AX6 axleguards, now also in phosphor-bronze.
Crown plates which have been out of stock will be available again and there are new brake block etchings one for L&YR wagons the other for early Southern railways and POWs, starting to fill the gaps on the price list that have been there some while.
In addition we will have our production crossing jigs for bullhead rails - one for acute angles from 1:3 to over 1:10 and two for the obtuse crossings for diamond crossings and slips also for 1:3 to 1:10. There are two obtuse angle jigs as the sleeper positions changes as the angle becomes greater hence the two different patterns. These jigs are in stainless steel which most users will find difficult to solder anything to, although it is possible with the correct flux. Further details are on the "Downloads & Details" page.
The windows for MR signal box designs had become dis-organised and the items on the price list have been deleted and replaced with a "order" service if a particular design specification is not available. See the first results of researching the variety in Midland Signal boxes as a downloadable document.
January 2017
After many years absence we have returned to the Chiltern's Show now it has moved the Stevenage, next to the station.
We have sourced limited quantities of thin clear cast acrylic sheet - one 0.2mm thick and another 0.5mm thick. These sheets will be available in pieces about 165mm * 70mm. The thin sheet is intended for use with the tilting windows.
Some etchings for the valances and splashers to the Hornby D16 will help conversions of this locomotive class to the late rebuild of earlier engines - many "valanced" D16's were rebuilt with a narrow cab, later ones had the wide cab. However these parts will not help converting the front mainframe/smokebox area which will need modifications.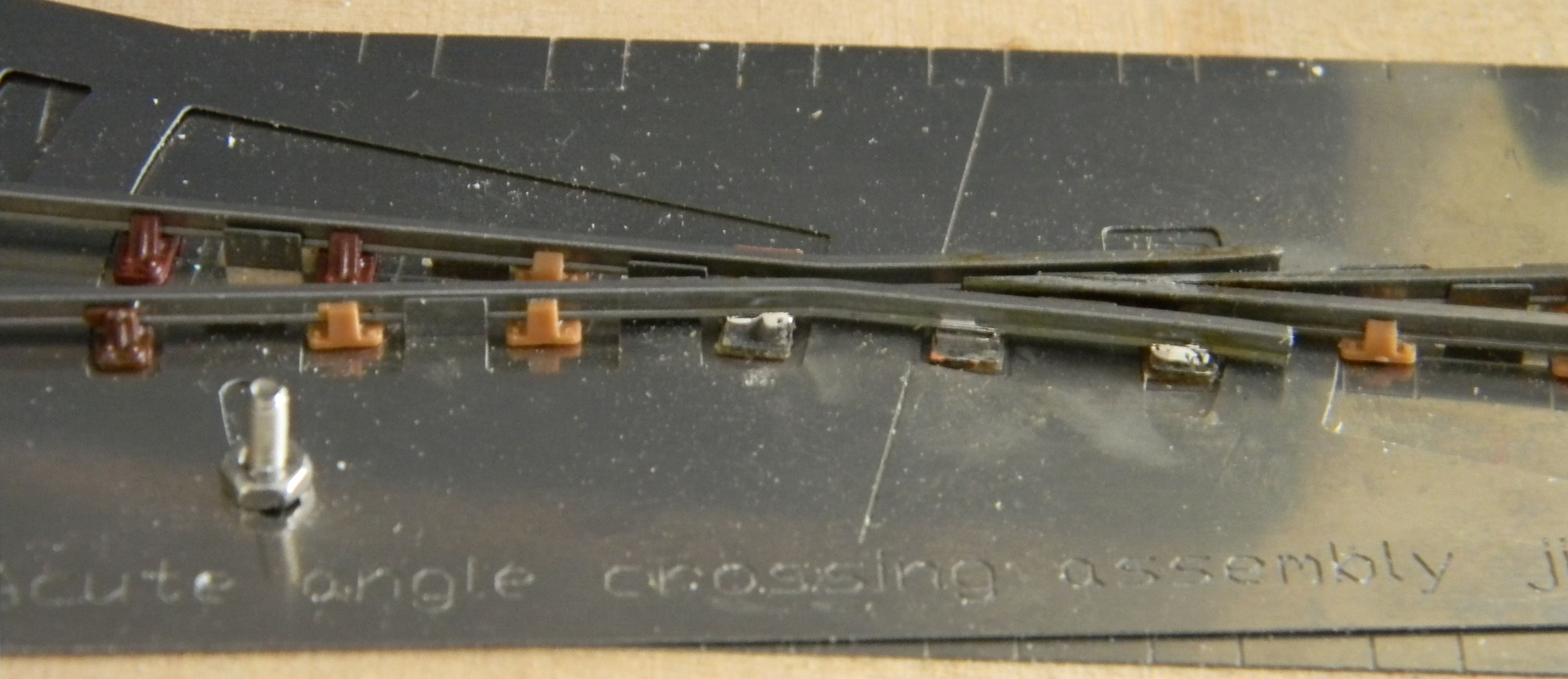 December 2016
A number of products are being restocked - these are AX3, AX8, AX9, AX10, BX3, CC3, CP1, CS7, BL4U, BLG11A and BLG11B.
The new stock of axleguards has been produced in phosphor bronze, whereas the older stock used nickle-silver.
We have decided to package Instanter Links with normal links, one brass, one steel per instanter in packets of 36 links in total - the same as CCL1. These will be CCE (early) and CCM (modern).
The GER ratchet brake lever guides will also be bundled with the GER brake levers - BLG7 and BL4X as BLS3.
The "bottle" shape shackles etching has been redesigned and will be introduced when the earlier pattern is exhausted (CS3)
The screw coupling links etching is now in phosphor-bronze (CC3)
Some additions to the smokebox number plates (BR era) have been made.
Two new brake lever guides are:
The early LNWR type were no brake lever rest was provided. There are two designs for this on one etching as BLG9.

A set of brake lever guides and levers for the LNER bogie bolster type wagons comprising 4 levers, 4 lever guides and the curious brake application rest (or whatever it was) in the Bird like style and later ladder version. This is item WV10.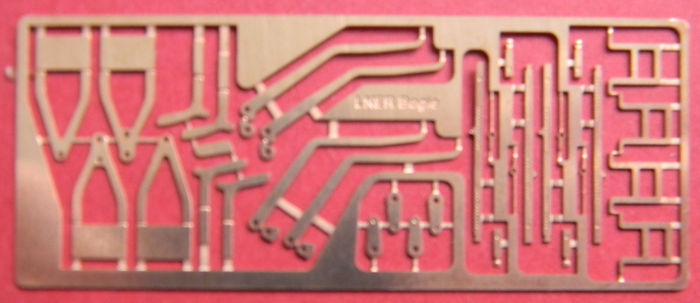 The Wagon labels "FISH" and "FRUIT" are available as WD1 and the L&YR "loads to be evenly distributed" plates as WD4, the LMS Signal box lettering - 2mm high alphabets with variations in O, C, R and S letters as LS10 have also been finalised.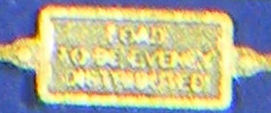 Some commissioned work has been completed:
Windows for a modern industrial building in Sheffield - windows BFW22, BFW23 and BFW24, these are limited production items.
The small station Settle and Carlisle Railway windows and "porthole"screen, waiting room building windows, barge boards, station masters house and goods shed windows have been re-engineered to 2mm scale (1:152) as a further commissioned item. This will also be a limited production run as BSET1.
September 2016
Whilst new product production has been slowing down, we are revisiting some of our older products.
The following have been restocked - the 40 lpi chain, GER brake levers (for ratchet brake gear), NE large hopper brake levers (wood and steel versions), the BR re-bodied 16T mineral wagon brake lever and Gloucester hand braked wagons. The waiting room building window set from Settle & Carlisle railway has been restocked and the small station house window set has been enhanced by additional windows for a complete building.
The GER pattern brake lever will also be marketed with open ratchet lever guide as a bundle.
The locomotive shed products have been split into two phases, phase one is enough windows and doors for Coalville Engine shed - BSE1, windows and a door for a water tank tower - BST1. (based upon the larger tank at Chapel-en-le- Frith) and smaller windows for Midland coal stages - BSC1. Phase two will be the coal stage tubs. The engine shed windows are not the same size as the previously available windows.
A new window is a rectangular 6 (h) by 5 (w) rectangular metal frame window commissioned for a project using the Ingleton engine shed.(BFW22)

Coupling rods with proper knuckled connections for the J11 locomotive (GCR 0-6-0, for Bachmann locomotive conversions) are available (10 + 8 ft) (LCC2).
A rethink has resulted in a delay of the production of pointwork construction jigs (TJ1 and TJ2)- these are expected to have variable geometry so only two designs will be made.

May 2016
New items for May
The GNR locomotive lamp irons will be available. The second bridge safety fence - a wrought iron version should also be available.
A version of Midland railway mileposts, bridge numbers and the large "SWITCH" sign is now added to stock items. Bridge numbers from 1 to 100 are available plus 1A to 10A,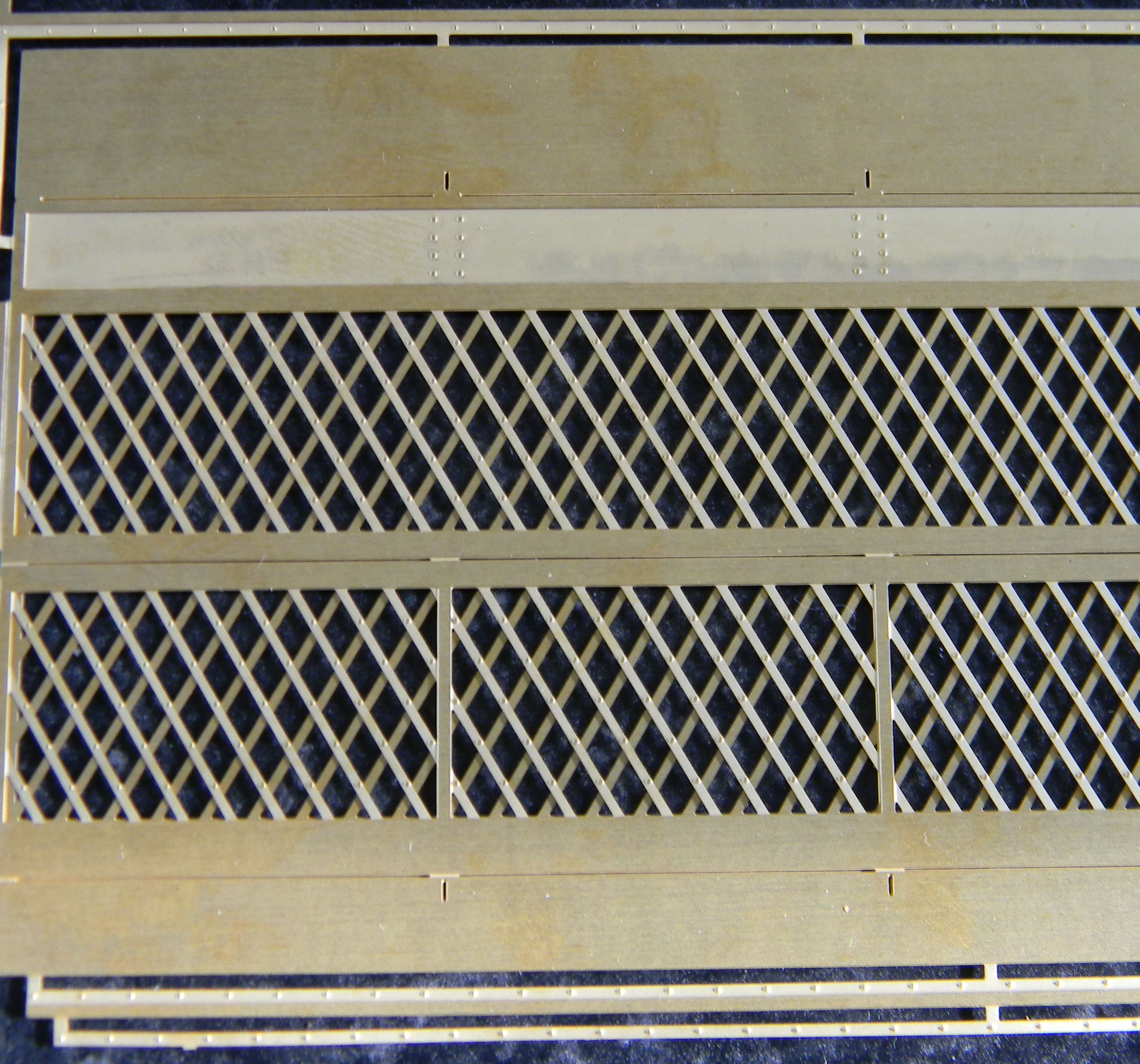 the mile posts include 1/4, 1/2and 3/4 mile items and some distance plates such as 0,5,10,15 and up to 110 miles. "Beware of Trains" signs are also included. The mounting posts are not included
old rail or 1/16 square rod should be used. The signal post ladders etching is also available in limited quantities. This has five 27ft ladders on the etching and requires wire rungs. It is best to make up all the
ladders on the etching and cut them out as required

The Long wheelbase Coach etching is now available in phosphor-bronze using redrawn artwork. This includes the outside solebar 4 bolt axleguards should these be required - for old LNWR, NSR and Scottish
company stock for 3 axle vehicles. A two axle version - AX9 is also available.
The Vacuum brake fittings for LMS/LNER stock should be available again - now in phosphor-bronze.
April 2016
New items
Sash windows for the Teviot Dale project (BW14,15 16) prompted an update of the windows and doors details
A number of smokebox number plates were added to the list of etched plates and the detailed list was updated
More PCB thicknesses have been added to the available items - new were 0.6, 1.2 and 1.6mm sheets
The first of safety fences for bridges has been produced and is now being tested.
February 2016
New items to include GNR locomotive lamp irons, other wagon brake block shapes.
LS01x to be produced as left hand(L) or right hand (R) versions
Midland Railway tumbler frames in modules of 4 levers - body shape 3D printed, etched levers.
January 2016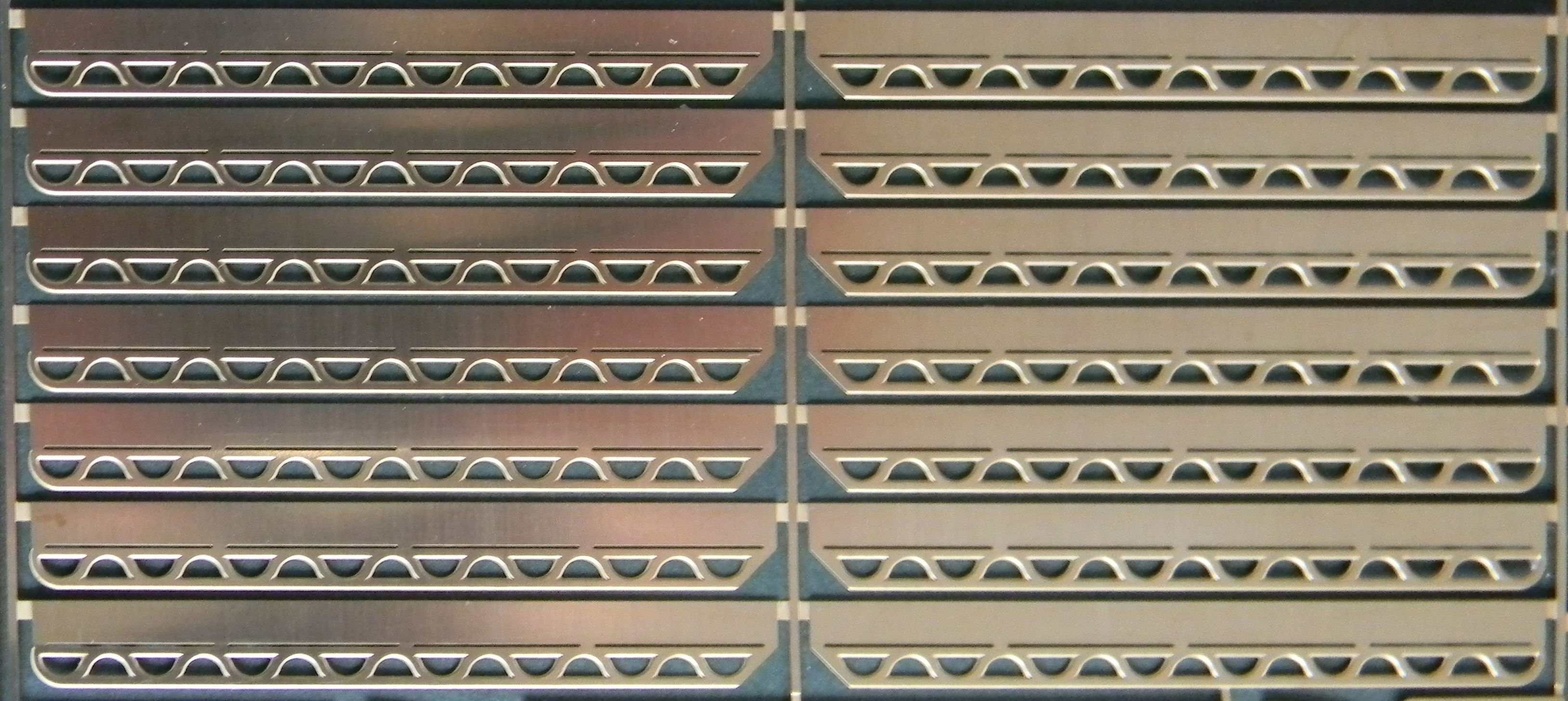 First test of track building jigs are now being tested
TJ1 - Track building jigs for crossing "vees" with clearances of approximately 0.6mm - from 1:3 to 1:10
TJ2 - Track building jigs for obtuse crossings with clearances of approximately 0.6mm - from 1:3.5 to 1:8
After testing it became clear these needed to be redesigned so their introduction has been delayed.

Items RCH, LP1, LCC1, BX3, BL4X, BL5K (replacing BL3K) and LWBO/C are now restocked in small quantities


New item for rebodied BR 16T mineral wagons- BL5Z
A missing "vee" from the LSWR standard unfitted wagon brakes with a lifting link was added to the etching (WV12)
New windows BW9 to BW11 and BSB1 to BSB3 now available.

December 2015
Some items have been restocked and the products list has been updated with new items currently in production.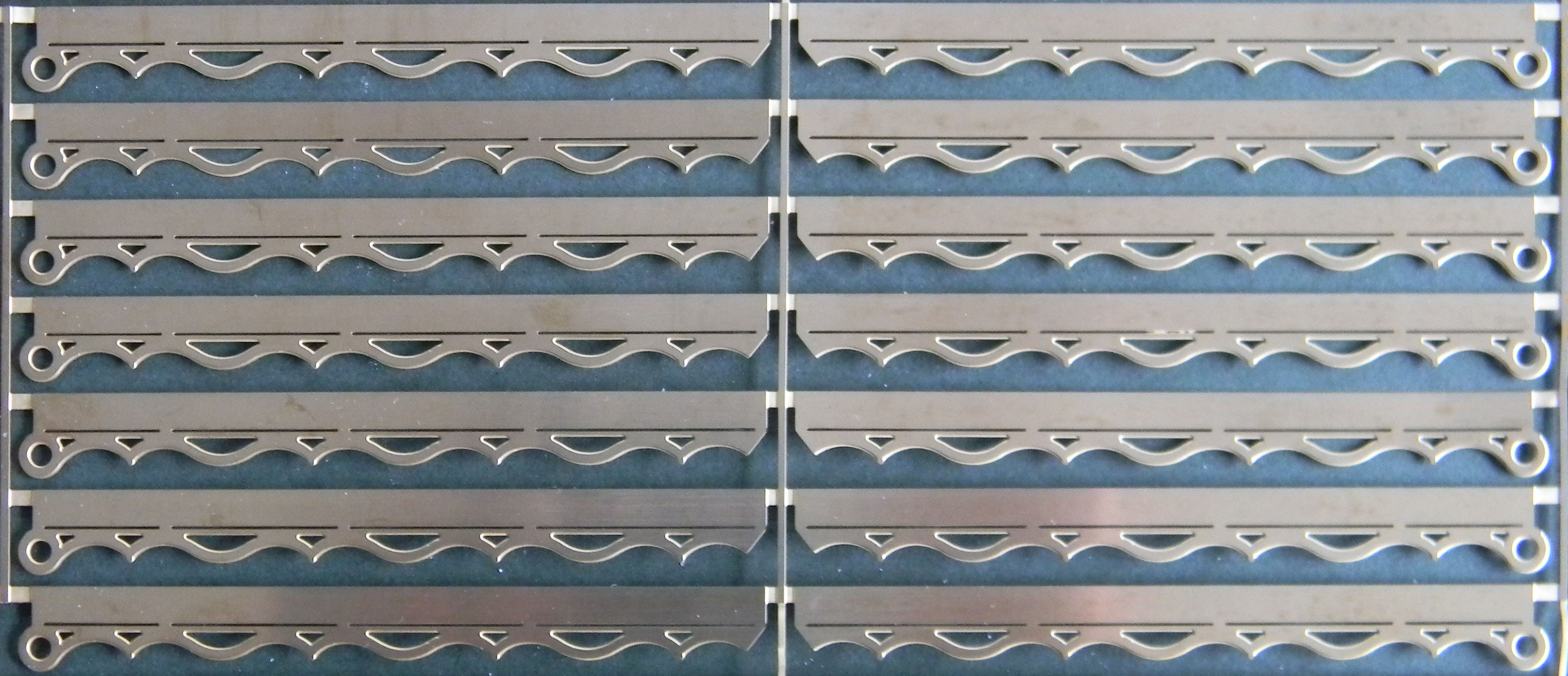 The new items when available will be priced. These are
BW9 - Cornish Engine House main and rear doorways
BW10 - Cornish Engine House sash windows with semi-circular top
BW11 - Cornish Engine House sash windows - rectangular shape
BSB1 and BSB2 Ornamental barge boards (two styles) for Settle & Carlisle line station buildings
BSB3 Ornamental barge boards for the smaller waiting room buildings Settle & Carlisle line
LS14 - More windows for Midland Railway signal boxes - mainly the small 4 pane windows
LS20 - Small sample of chequer plate recessed and raised style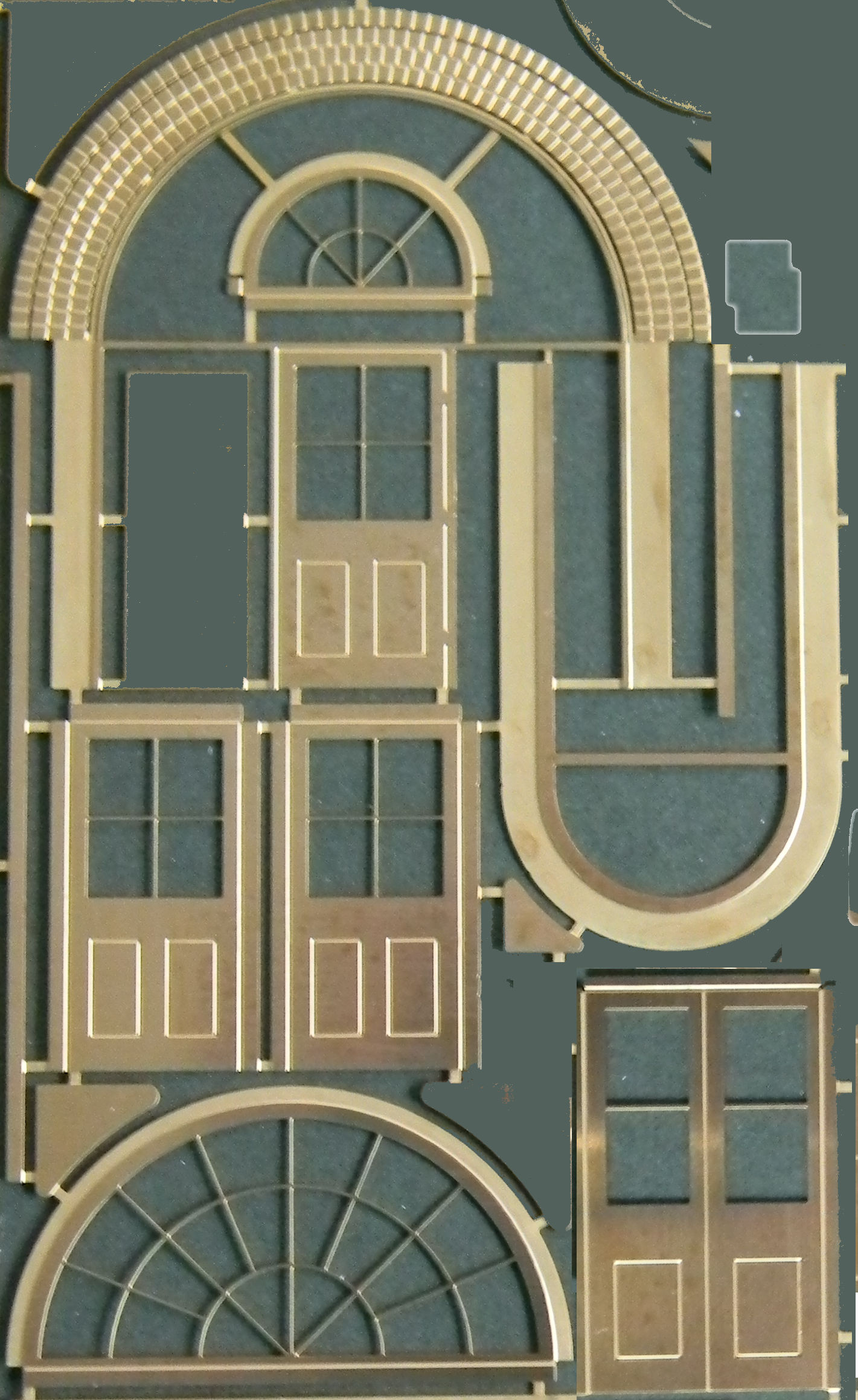 A new range of 3D printed items in "pure acrylic" is now listed. These printed items will be to order only while their size can vary.
LSWT is the Midland Railway water tank (also used for water softening tanks and perhaps bridge safety screens). Each panel is a scale 4 by 3 feet, but there are 9 variations in a water tank.
It is necessary to describe the water tank in panels as each side will be produced in one piece.
LSTLF is a single piece Midland style "tumbler frame" with added metal levers which require assembly and painting in the correct colours. These frame were made in units of 4 levers, so it will be necessary to order the required number of levers per frame. This product uses the longer tumbler frame for over 28 levers and hence will need a 12ft wide signal box instead of the more normal 10ft.
It will be readily possible to produce these printed items in larger scales - please enquire.
LS01 MR ground frame hut has been revised for simpler construction and will replace LS01 when existing stock runs out.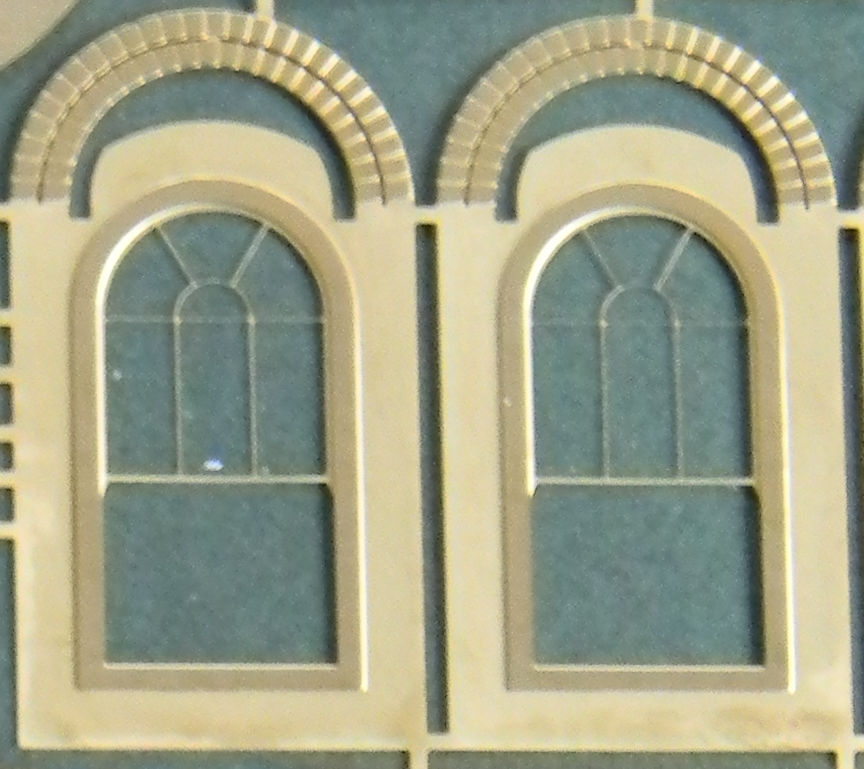 RCH (hand levers etching), LP1 (WD & 50550 class details) and LCC1 (BR 6 coupled diesel coupling rods) and sash windows are being restocked.

November 2015
Some items have gone "out of stock" and will be restocked.
We are now working on the following items: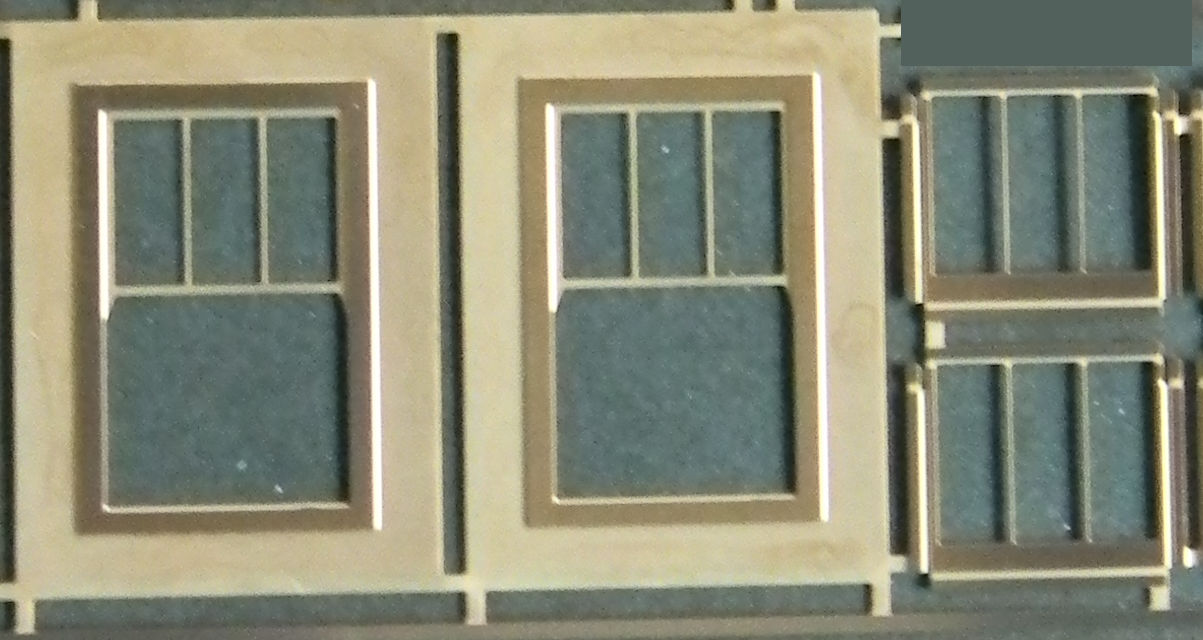 Ornamental barge boards for Settle & Carlisle stations and other buildings
Some new windows and doors for a Cornish Engine House
Signal ladders and platforms and a 16 lever scale size tumbler frame

More windows for the very early MR signal boxes and some minor revisions to the ground frame parts.
Some parts for LNWR footbridges - with the wheel emblem, to supplement the new product from London Road Models of a whole footbridge kit.
Water tank panels in other sizes
Some initial versions of the "Corby concrete sleepers"
September 2015
The first water tank panels arrived - an 8 by 5 by 2 Midland Water Tank. Produced in four parts these should be easy to finish off in the correct colour scheme for the period being modelled.
They will be produced to order as the potential for different sizes is huge and this reduces the need for the 9 different panels used at 12 inches to the foot scale. These are acrylic 3D prints which include the fillets, bolts, on the top bolt holes, and the raised pattern in each panel.
Other sizes will need some re-programming of the printer (at an extra cost) - the current version is available at £45.00 per set (including postage)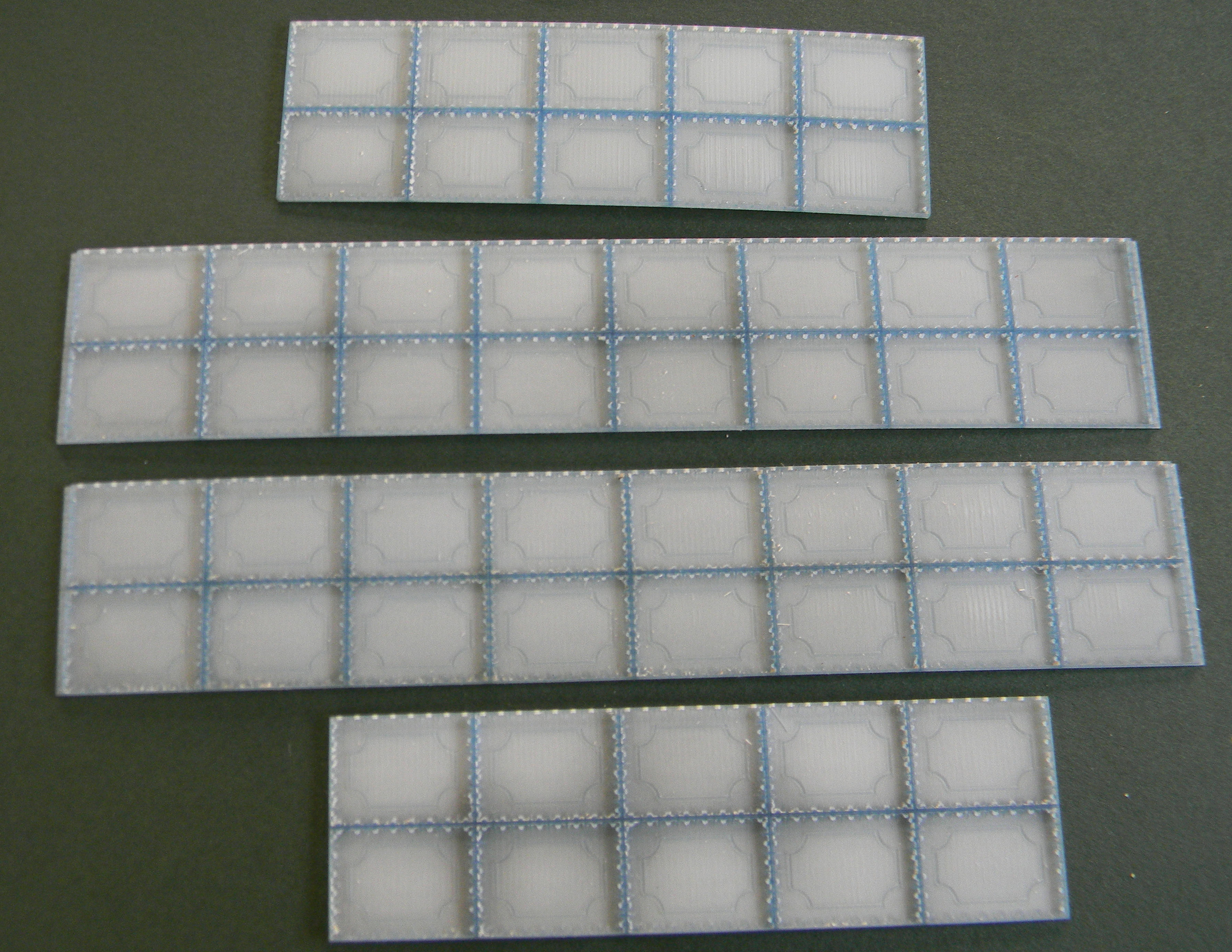 May 2015
NEW 2mm scale corrugated iron strips an imported product very similar to Eastwell Ironworks line, 15mm wide, thin aluminium
TBF1 - Bonding connectors (50) & fishplates (40) for light section rails
TBC2 - Heavy duty bonding connectors (32 crimped, 32 soldered wire)
TRSx - New artwork bar stretcher ends for S for 14, M for 28, L for "B" switches
One switch uses 4 stretcher ends, so a double slip will use 8 pairs

LS06 - Platform number signs (1 to 5)
LS09 - Name boards for Settle & Carlisle Signal Boxes (MR/LMS style)
More EP 2 - Engine name and number plates (see new etched plates list)

Windows & Doors
BW 8 - Uneven sash windows 4 by 5 panes (6)
BW 9 - Gothic style window set - bay of 5 and two pairs
BD 2 - Gothic style double door (1)
BFW21 - Semi-circular top, opening bottom windows (6)
BS 22 - Screen for large S&C railway station buildings (lozenge style)
BS 23 - Screen for smaller S&C railway station buildings (porthole style)
BS 24 - Windows for Bedford-Hitchin stations - lozenge pattern (6 pairs)
BS 25 - Screen & parcels entrance Water Orton Station (MR)
BS 26 - Ornate windows for S&C railway stations (set of 14)
BSH1 - Windows for 2 storey station masters house S&C railway
BSH2 - Windows for Dent station masters house - S&C railway
BSH3 - Windows for Midland Counties Railway Houses - lozenge pattern (6)
BSG1 - Windows for S&C railway goods sheds - lozenge style (8)
BSS1 - Windows for MR stable block arched top, opening section (8)
September 2014
CH4 restocked @ £1.70 per pack
CH5 restocked @ £1.70 perppack
CH5*2 Twin Pack added to range @ £3.30 per pack
WV1 restocked
May 2014
RPSP Signal wire posts and pulleys. Thirty 12 wire posts and sixty 6 wire posts and a number of restricted location versions. Simply remove unwanted pulleys.
Posts are single piece fold up items, We suggest using fly fishing tie wire for the cable runs.
LMS1 - Returned to stock, redrawn and now in nickle-silver. A selection of footsteps for LNWR/MR/LMS prototype locomotives.
March 2014
New flush glazing packs in 0.5mm clear acrylic:
FG6x - Two circular disks for spectacle plates in a range of sizes
NOTE - There is a manufacturing tolerance of 0.2mm on these parts
1 - 6.3mm - e.g. L&Y Class 27 (MPD kit) - 19" diameter
2 - 5.5mm - 16.5" diameter
3 - 5.0mm - 15" diameter
4 - 4.8mm - 14.5" diameter
5 - 4.4mm - 13.25" diameter
FGN2 - Glazing for Gresley full brakes (Ian Kirk Kits) either 52 ft or 61 ft 6in versions
BFW4A - 4 by 4 pane rectangular window now with tilting pane
LS02 - Windows for a MR signal box 20ft by 12ft deep
LS03 - A set of 9" deep edged name boards for signal boxes
CL15 - Fifteen links per inch chain added to range of chains
Trial of signal wire posts completed
Restocked Ax8 - wide pre-group axleguards (e.g. GER)
Restocked Bx3 - Narrow Plate BR Continental axleguards
Restocked RCH - Pair of hand levers with hidden operating crank (new artwork)
Restocked LP1 - Austerity and Hunslet 50550 class details (new artwork)
Restocked LCC1 - Coupling rods for BR 0-6-0 diesels (new artwork)
February 2014
LTSV1 - Four patterns of tender sides to match Alan Gibson MR 3250 Johnson tenders to convert to 3500 gallon versions for 3F and 4F locomotives. Variations are all beaded sides with low or high beading, no central beaded joint or commode handrails and beading.
TBF1 - Fishplates and under rail power connector etching - in phosphor-bronze
Consisting of 40 fishplates, 30 single wire and 20 two wire connectors
WD3x - Set of body detailing plates and lamp irons for (1) MR 20T Brake van D1045 , (2) Tariff Van D382 , and (3) Tariff Brake Van D392 - per wagon may suit other wagons. These wagon diagrams may be produced from adapting existing plastic wagon kits. />
SS1 - Narrow sanding strips on foam backing - mixed density - £2.00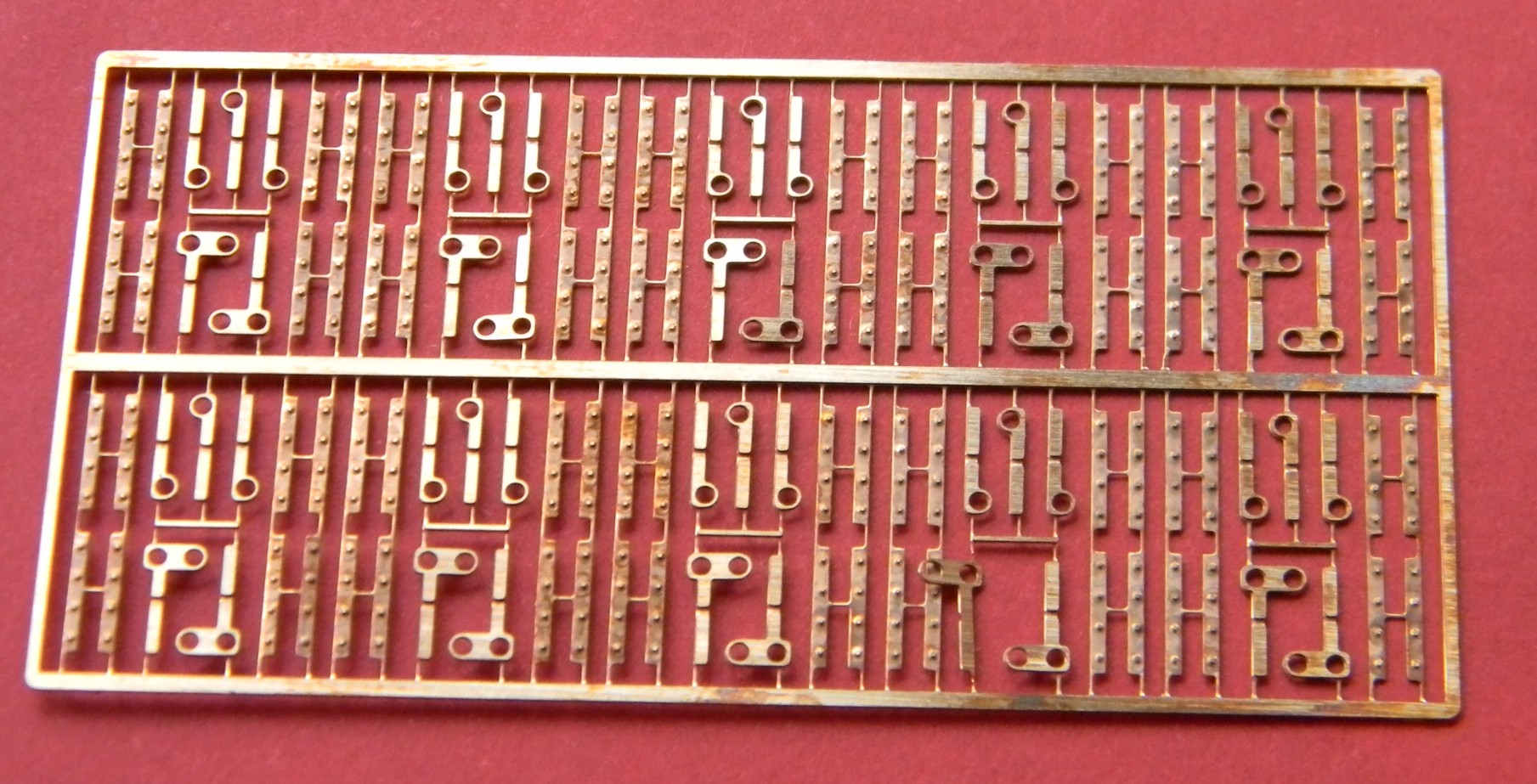 Restocked BL4L - Long LNWR unfitted wagon brake levers (6), price now £1.80
Restocked CH3 - Pre-Group coupling hooks and added Twin Pack - CH3-2 (£3.40)
January 2014
New item available - replaces CL32 on price list (CL32 sold out)
CL27 - Blackened 27l.p.i chain approximately 18 inches/450mm long
September 2013
New items now available
G-2 Larger size gear wheels - 3 sizes - approximately 19.5 to 24mm diameter, plus smaller gears and two gear racks
BFW18 - New factory window with tilting centre panes 6*5 panes arched top
BFW19 - Reproduction of 1970's etched window with tilting centre panes 4*6 panes arched top
BFW20 - Pair of small windows 2 by 2 panes
BS21 - Wooden platform building windows 4*4 with 4*2 toplights from Northfield Station (MR)
LS10 product additional sign groups
-B - Footbridge and WayOut Signs
-S - Subway and WayOut Signs
-P - Platiform Room Signs
-D - Platform office doors signs
Production of wider/taller domestic profile corrugated sheeting.
A<x>d and Cu<x>d corrugated sheeting made available in 40mm (10 feet) and 48mm (12feet) and 56mm (14feet) sections
Other sizes may be made to order up to 106mm high/wide
May 2013
Noted station signs pack missing from price list - LS10 (£2.00)
Restocked CH2 coupling hooks and introduced twin pack - CH2-2 (£3.40)
New items now available
G1 - Scenic spur gear wheels about 150dpi a selection of smaller sizes - up to approximately 12mm diameter (£6.00)
RPLP - Narrow metal facing point lock cover (£4.00)
LS01 - Midland Railway Ground frame cabin with additional signal box windows (£6.00)
More Road signs packs added - Web list is up to date
Printed price list up to date May 2013 - Web site price list dated April 2013 misses the 4 products listed above
April 2013
Restocked BL5EW - Long straight brake levers for 20T wooden hoppers (NER)
Now obtained a different supply of 20 link per inch chain (CL20)
Introduced new Signal & Point Rodding components
RCON Rodding connectors or forks (50) - near scale item, a basic fork version is included with all crank components
RCV2 Rodding cranks vertically mounted 10 by 9 inch arms (8)
RCV3 Rodding cranks vertically mounted 10 by 10 inch arms with adjustment holes (8)
RVC Rodding vertical compensators (8)
RVS Rodding simple compensators e.g. GER (10)
RIV Rodding inverted vertical compensators (8)
SP1 Wire pulley wheels 12 inch diameter (12) with chain (simulated)
SP2 Wire pulley wheels 9 inch diameter (12) with chain (simulated)
SP3 Wire pulley wheels 6 inch diameter (16) with chain (simulated)
SP4 Wire pulley wheels 12 inch diameter vertically mounted (10) with chain (simulated)
SP5 Wire pulley wheels 9 inch diameter vertically mounted (10) with chain (simulated)
All horizontal pulley wheel components can be built with two levels -e.g. SP1 would make 12 single pulley wheels or 6 twin pulley wheels
February 2013
Restocked BL5A and WSio9 etching
Introduced BL5A in 7mm scale
Introduction of SHOW BUNDLES for BL5A and BLG3A and BLGB not listed in price list, only available at shows
CL20 product proves very elusive packs still on order from October 2012
November 2012
CL20 Due November - 20 link per inch chain - 10 inches per pack
September 2012
RTBS Bar Stretchers Mk4 in 28 in 4mm and 16 in 7mm:1 ft scales
PIN40 For assembling point rodding, modern tensioners and screw couplings, small size (0.4mm)
PIN60 For assembling point rodding modern tensioners and screw couplings, large size (0.6mm)
BFW17 Metal frame windows 5 by 5 pane semi-circular top (from Gas Works project)
BFW16 Two "Porthole" windows and one industrial scale circular louvred vent

Wheel splasher additional parts for MF2 - MR 0-4-0ST "one piece fold up" mainframe kit.
Window sets from railway stations, but applicable to other buildings as well
BS11 Sash windows semi-circular tops from Kings Norton (MR) - and other stations
BS12 Sash windows semi-circular top and arched top from Evesham (MR) and other buildings
BS14 Rectangular windows 3 by 6 and 4 by 7 panes from Higham Ferrers Station (MR)
BS15 Rectangular sash windows from Water Orton Station (MR)
BS16 Segmental arch windows from Water Orton Station (MR)
BS17 Segmental arch and rectangular windows from Water Orton Station (MR)
BS18 Large windows from large and medium stations on the Settle & Carlisle line (MR)
BS19 Small windows from the waiting room shelters on the Settle & Carlisle line (MR)
BS20 Medium sized windows from large and medium stations on the Settle & Carlisle line (MR)
Remastered axleguards including long wheelbase features
AX3 Heavy duty (typically 20T mineral wagons) and LMS axleguards
AX9 Old style LNWR/NSR/Scottish narrow plate axleguards
AX10 GER/LNER wide axleguards
A selection of brake lever guides for 7mm:1 ft scale
BLG3A RCH short chain
BLG3B RCH long chain
BLG4A Short for fitted stock (7 hole)
BLG4B Short (7 hole) no axleguard tie
BLG5A Pre-group/POW 16 hole
BLG5B Pre-Group/POW 10 hole
BLG6 NE long travel (larger mineral wagons)
BLG7 GER open ratchet
BLG10 NB wagon (half "open")
BLG11A Early GWR ratchet
BLG11B Late GWR ratchet
BLG12 Severn Valley Ports, pin and ratchet
April 2012
RR1 Channel Rodding and Stools
RRS Round Rodding Stools
RFPL "Standard" Facing Point locks (2), fouling bar and signal selectors
RBL Bolt Lock with signal selectors (2)
RC1 Cranks (set 1) - 10 fabricated cranks
RC2 Cranks (set 2) - 10 fabricated cranks with adjustment holes
RC3 Cranks (set 3) - 10 cast cranks
RCV Cranks for vertical movement – 6 cast cranks
RCA Adjustable cranks (set 1) – 8 cast cranks
RCB Adjustable cranks (set 2) – 10 fabricated cranks
RAC Accommodating Cranks – set of 20
RHC "Standard" Compensating Cranks – 8
RSP Rodding Starter pack
Comprising: - Channel rodding, accommodating cranks, Set 1 of cranks, standard compensating cranks and adjustable cranks set 2.
See downloads for details
FG1 Flash Glazing for r-t-r "Pug" L&YR 0-4-0ST
FG2 Flush Glazing for Hunslet 18" 0-6-0ST - "Austerity"
FG3 Flush Glazing for Hunslet 16" 0-6-0ST - four units 13.5" diameter
FG4 Flush Glazing four units 16" diameter
FG5 Flush Glazing for MR/LMS Fowler 3F's including tank engine rear spectacles.
February 2012
BW6 Sash Windows (6) 3*2 panes - small
BW7 Sash Windows (6) 3*2 panes - large
TPW Plateway "rail" – approximately 340mm of "rail"
RFPLC Standard Facing Point Lock Cover – 3 per pack
REPLC Economic Facing Point Lock Cover – 2 per pack
RS9 Road names series 9 or 10 road names per pack:
Themes
Railway, Nautical, Trades, Agricultural, Regal,
Heroic, Geographic, Shire, Place, Corporation,
Navigation, Mediaeval
See downloads for details
LH1 Handrails for Class 24 diesels (nickel-silver)
Imminent Release
MF1 Mainframes for GWR/TVR/Hudswell Clark "S" 0-4-0ST
MF2 Mainframes for MR 1500 series 0-4-0ST
See downloads for details
(Both former K's Kits)
September 2011
Brake lever guides - 11 types and one bulk RCH brake levers guards pack
BLG3 Bulk RCH guides (20)
BLG3A RCH short chain
BLG3B RCH long chain
BLG4A Short for fitted stock (7 hole)
BLG4B Short (7 hole) no axleguard tie
BLG5A Pre-group/POW 16 hole
BLG5B Pre-Group/POW 10 hole
BLG8A Curved top shield - 10 hole, eg. GCR
BLG8B Curved lever rest - 10 hole
BLG11A Early GWR ratchet
BLG11B Late GWR ratchet
BLG12 Severn Valley Ports, pin and ratchet
BLG10 Dean Churchward (I/II/III) brakes for one wagon
New LMS compound brake lever used on LMS bogie wagons
New brake wheels -5 types of 6 wheels
New MR 10T van details - strengthening plates for one wagon
New MR signal box letters - 2mm high alphabet
New Class 24 Handrails
And Returned to stock AJ Aid components
February 2011
New Brake Levers & Vee Hangers
BL4C Updated LMS Clasp Brake Levers
BL4D Updated LNER Clasp Brake Levers
BL4Q Gloucester Brake Levers
BL4U L&YR Straight Brake levers
BL4V L&YR Curved Brake Levers Double Vee
BL4W L&YR Curved Brake Levers Single Vee
BL4X GER Ratchet Brake Hand Levers
WV11 GCR Lifting Link Brake Levers + Vee
WV12 LSWR Lifting Link Brake Levers + Vee
WV13 SR Lifting Link 4 shoe Brake Lever + Vee
WV14 SR Standard 8 Shoe Brake Lever + Vee
PR16 L&YR Push beams
PR17 Clasp brake "Yokes" pull fitting
PR18 Clasp brake "Yokes" push fitting
CPA Revised Rectangular Drawbar Plates
CC3 Revised Screw coupling link etch (3 types)
Windows range extended
Further Nameplates added to range - Total now 114 Names and 45 Numbers
September 2009
Bar / Rod type stretcher components in 4mm and 7mm
Save
Save
Save
Save
Save
Save
Save
Save
Save
Save
Save